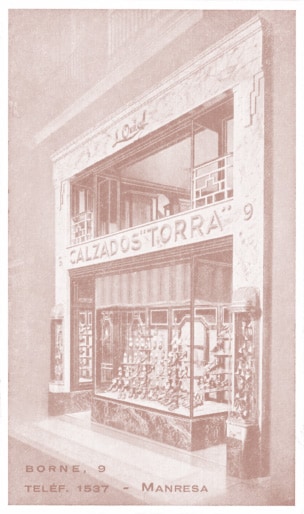 Calzados Torra, the shoe shop owned by Rosa Oriol's parents,located opposite the Tous jewelry store. Manresa,early 20th century.
1946
I was born in Manresa, the second of three sisters.My parents had a shoe store on Calle del Born, and we livedupstairs, with my grandparents.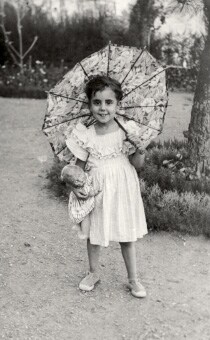 Rosa Oriol as a girl in a phototaken by her father. Torreblanca,1950.
1965
Salvador and I got engaged in the winter.A few months later, on September 21st, 1965, we were married inManresa.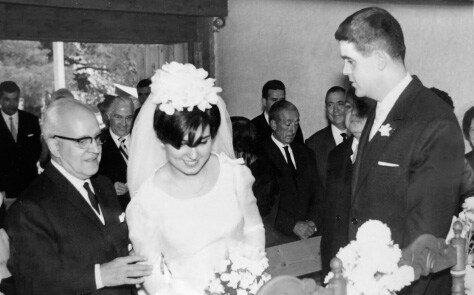 Rosa Oriol with her father and Salvador Tous during the wedding ceremony.Viladecavalls, September 21st, 1965.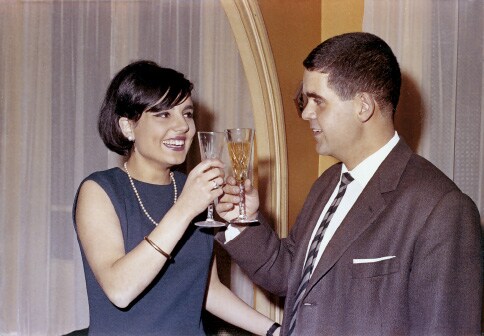 Rosa Oriol toasting with Salvador Tous at the ceremony. Manresa, 1965.

"
...I took the steps that truly changed my life. The steps to the altar?No, the steps between my parents' shoe store and the Tous jewelry shop.
"
1968
My father-in-law retired shortly thereafter and Salvador and I took thereins. After school, the girls playedin the loft that we made into our workshop.
"
In the first six years of our marriage, Idedicated myself to my work and my girls.
"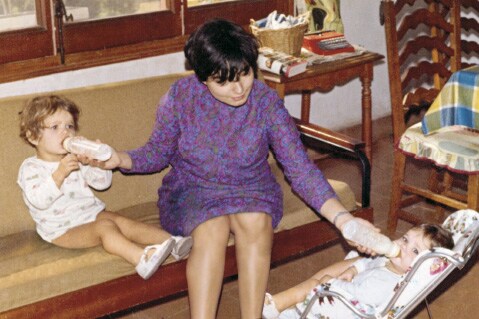 Rosa Oriol nursing her daughters Rosa and Alba. Torreblanca, 1968.
1970
In the seventies, I began designing exclusive pieces to sellat the shop and amongst friends.
"
The first trips I took in my life were work-related and mostly to art fairs like Basel, which opened my eyes to a new and exciting world. That's when I became aware of the vast possibilities that laid ahead for us in jewelry.
"
1983
In the early eighties, creativity was brewing in alot of disciplines, and many of us were able to really explore our imagination.We created the first pieces with repurposed gold and we made use of classictechniques like braided thread.
We revolutionized the world of jewelry while surrounding ourselves in arelaxed atmosphere for our clients. We democratized jewelry,by making it into a luxury good accessible to all.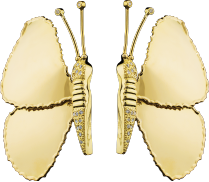 Butterfly Earring in repurposed gold, 1983.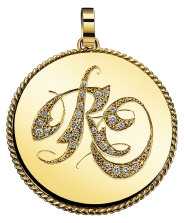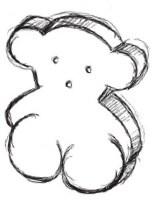 Sketch of the TOUS Bear from the Sweet Dolls Collection.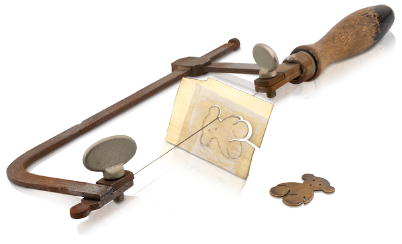 1985
Then one of our icons was born, the Bear. It represents tenderness, oneof our core values.
In the early eighties, walking down a street in Milan, I stoppedin my tracks outside a toy store, mesmerized by a certain teddy bearin the window. That bear would later change everything. Instantly it took meback to my childhood, awakening in me a nostalgia that I thinkwe all share, a warm memory of a time of innocence, tenderness,games and safety.'I want to make this', I told our team when I got back,holding the bear in my arms; and we got started.
We left our hometown and went to Lleida to open the secondTOUS store, where we found a clientele that was ready for my designs.
1989
We opened our first shop in Barcelona on Bulevard Rosa, today known as the Pedralbes Center.
"
In the nineties, we decided to put the TOUSmission down on paper. We wanted to make a road-map of who wewere and where we were headed so that we would alwaysbe able to make sure we were on track. And we've never had toupdate it, because the vision we had then remains the same to this day.
"

To build, develop, and expand the TOUS brandall over the world in a cost-effective way, within a mid or mid-highmarket,always making our customer the highest priority,selling a product that is both fashionable and capable oftransmitting feeling, with a key focus onquality, affordability, and service. All of that is possible with the effort andcooperation of the entire production team at TOUS.
1990
We celebrated our golden anniversary with a surpriseparty planned by our daughters.
1992
That year was very special, two very importantthings happened in different aspectsof my life: the birth of my firstgrandchild, Berta, and the opening of our second locationin Barcelona, on the Paseo de Gracia.
That year we also began working with our firstinvestee companies and we opened stores in Madridand Sant Cugat del Vallès.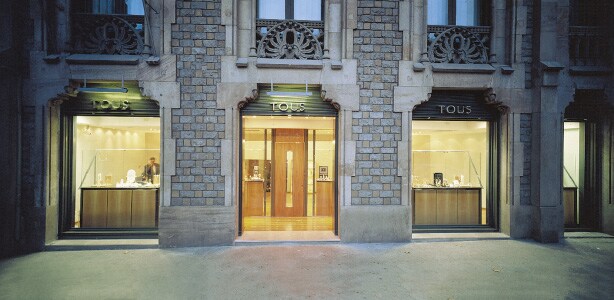 Storefront of the TOUS location on 75 Paseo de Gracia, Barcelona, 1994.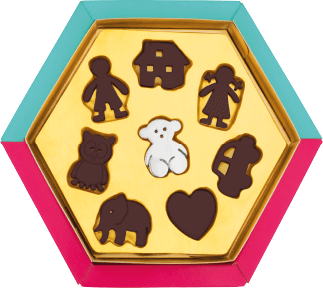 Box of chocolates from the Sweet Dolls Collection, 1995.
1995
The process of electroforming allowed us to produce some of ourmost iconic pieces, which are reunited in the SweetDolls Collection. That's how TOUS arrived at advanced industrial processes from simple handcrafted methods.
A trip to the Hong Kong fair later openedour minds to the prospect of building a multinational enterprise.
"
One of the craziest things we made was a box of chocolates containing ourkey icons cast in chocolate, one of them coated in silver.
"
1996
We launched a revolutionary communications strategy; weadopted a brand ambassador, a well-known face that could representTOUS both visually and at press events,Eugenia Martínez de Irujo.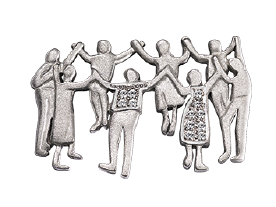 Special collaboration with Vives Fierro.Sardana Capsule Collection. 1996.
In December we released our first capsule collection,centered around the work of Antoni Vives Fierro,La sardana.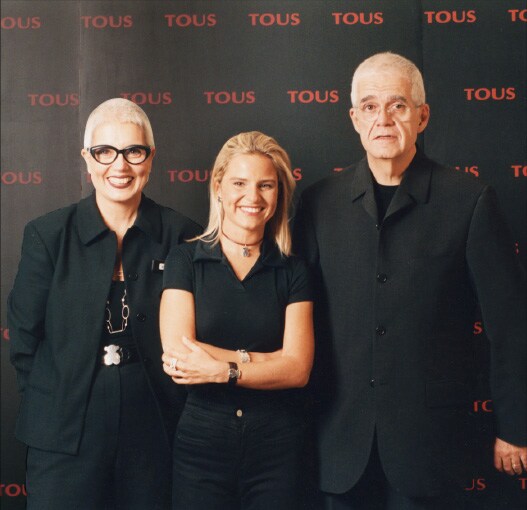 Rosa Oriol and Salvador Tous with Eugenia Martínez de Irujo. Barcelona, 1997
Salvador
brought out the very best in me and gave me thefreedom to fully explore and develop
my vision
.
1997
We simultaneously opened shops in Japan,Germany, and the United States.
1999
We set out on a journey tomake handbags.
2000
Technological innovation was perhaps an unusual area of focus for a jeweler, but we were truepioneers in applying industrial techniques to the world of jewelry.
"
...it's important to know how to adjust to changing times, and Ialways knew how to make the most of my experience and enjoy it.
"
2001
Launch of the first TOUS perfume.
We opened shops in Mexico, both on the street and withinmalls. The first TOUSvideo advertisement was shot soon after, under the direction of Jaime de la Peña.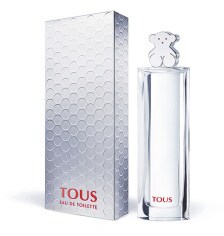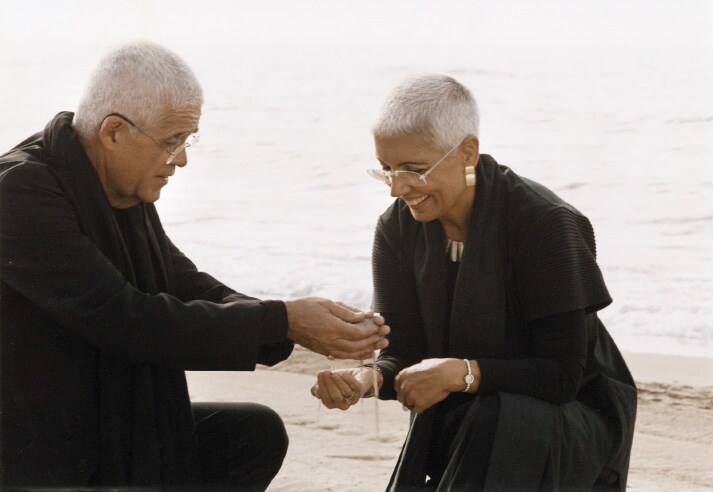 Rosa Oriol and Salvador Tous during production of the first TOUS video advertisement. Barcelona, 2001.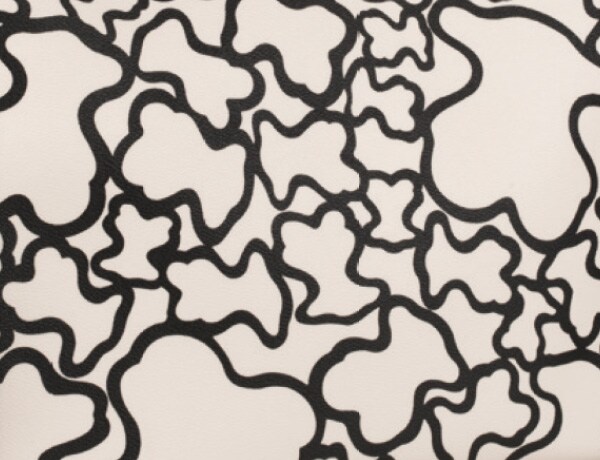 2003
We wanted to make a bag with theMilosos print in leather and PVC, but when we applied the pattern to the waterproofmaterial, the machine twisted the image and deformed the bears,enlarging some and shrinking others, plumping up one bear'sbelly, and stretching out the ears of the next. Iabsolutely loved the effect. It was a wonderful sort of chaos, and became the basisfor our reasonably priced, widely imitatedand best-selling bag, Kaos. A new icon was born.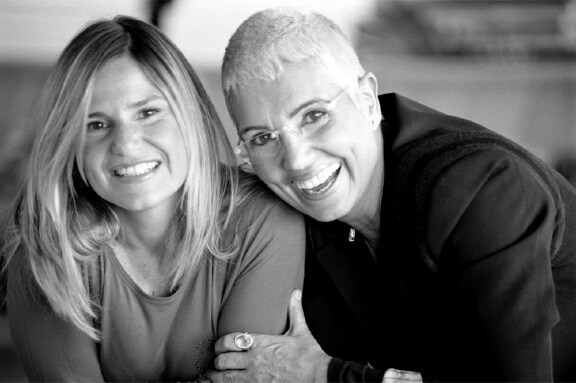 2004
We simultaneously opened stores in New York, Paris andLondon. Eugenia Martínez de Irujo designed herfirst collection for us, which she namedFolklore.
"
Another successful burst of craziness.
"
2006
We met Kylie Minogue in Cannes and she starred inour ad campaigns for the next three years, with Ellen VonUnwerth directing the photography. After that, other leadingprofessionals would come on board, like Mario Sorrenti, or Terry Richardson,as well as extraordinary models like Jennifer Lopez.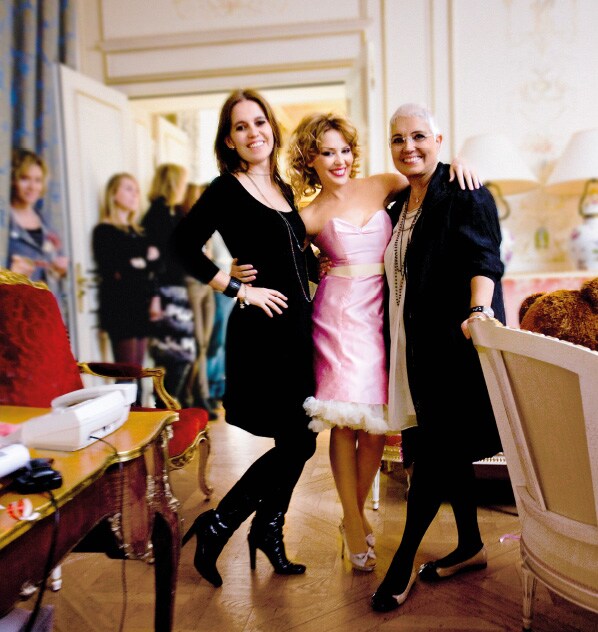 Rosa Tous and Rosa Oriol with Kylie Minogue during production of the Fall-Winter2009-2010 campaign in Le Marurice. Paris, 2009. Photo by Joan Horon.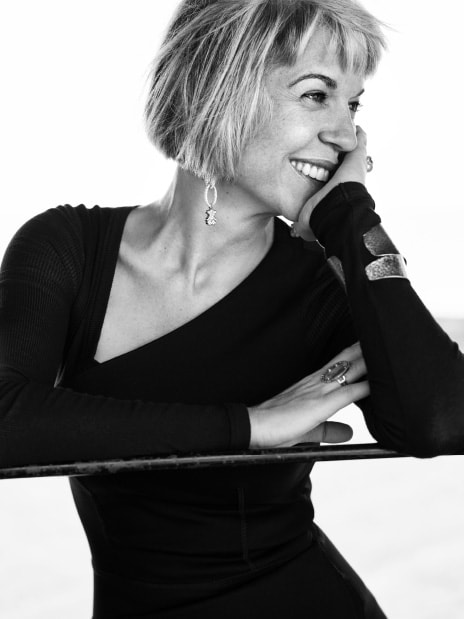 2008
It seemed like the right time to pass the torchto our daughters. It was another way of being close to them,watching their creativity blossom, and letting them take on key roles. Since then, our daughter Albahas served as president of the company.
2010
I paid a small tribute to my roots in acollection developed with the shoe designer Manolo Blahnik, which wasreally exciting.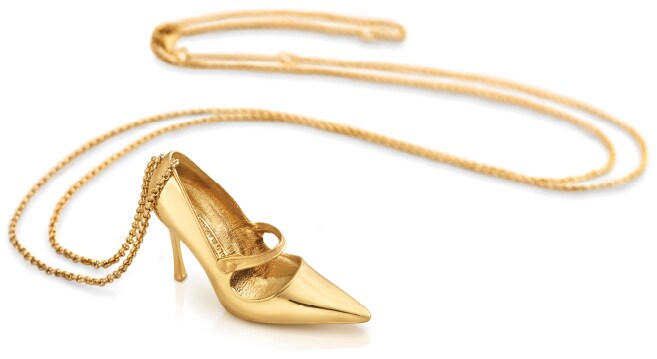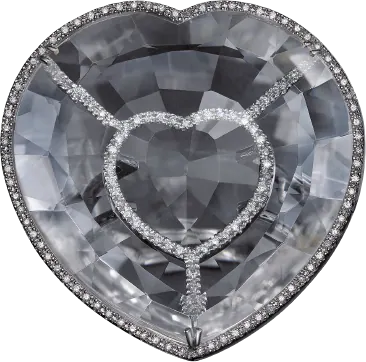 2011
We won our first honor from Vogue Joyas, receiving the Editorial Staff Award for our spectacular ring from the Dinah Collection in white gold with a heart in crystal rock quartz and diamonds.
2013
I then created my own perfume, Rosa
"
I wanted to make a fragrance for women my age,an intense scent that would really last on the skin.
"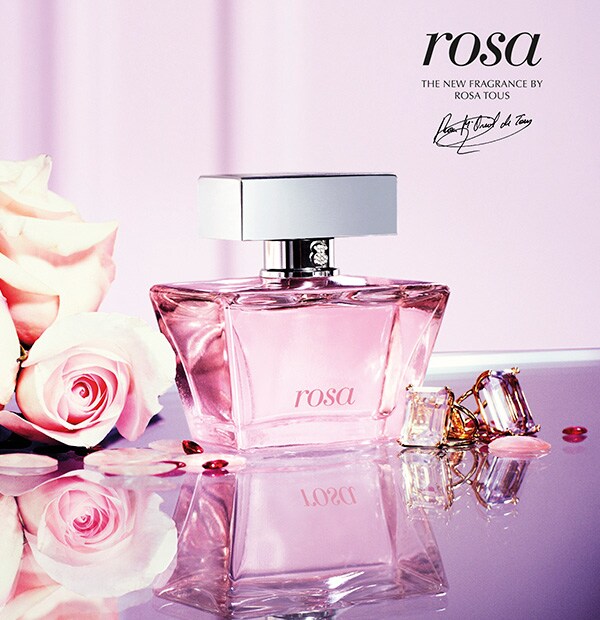 2014
We opened the new TOUS studio in Sabadell, a space spanning 3,700 square meters.
"
I've always said that you have to think big even when you're small.
"
2015
For the first time, TOUS had its ownexhibition stand at Basel World, one of themost prestigious and influential trade shows in the watch and jewelry industry.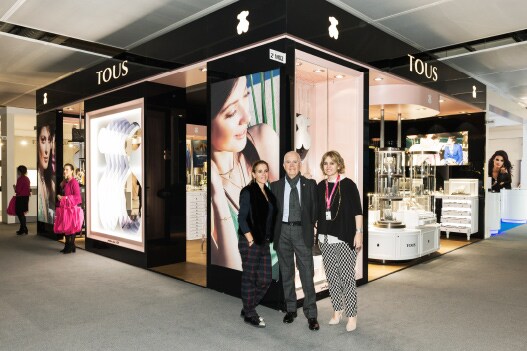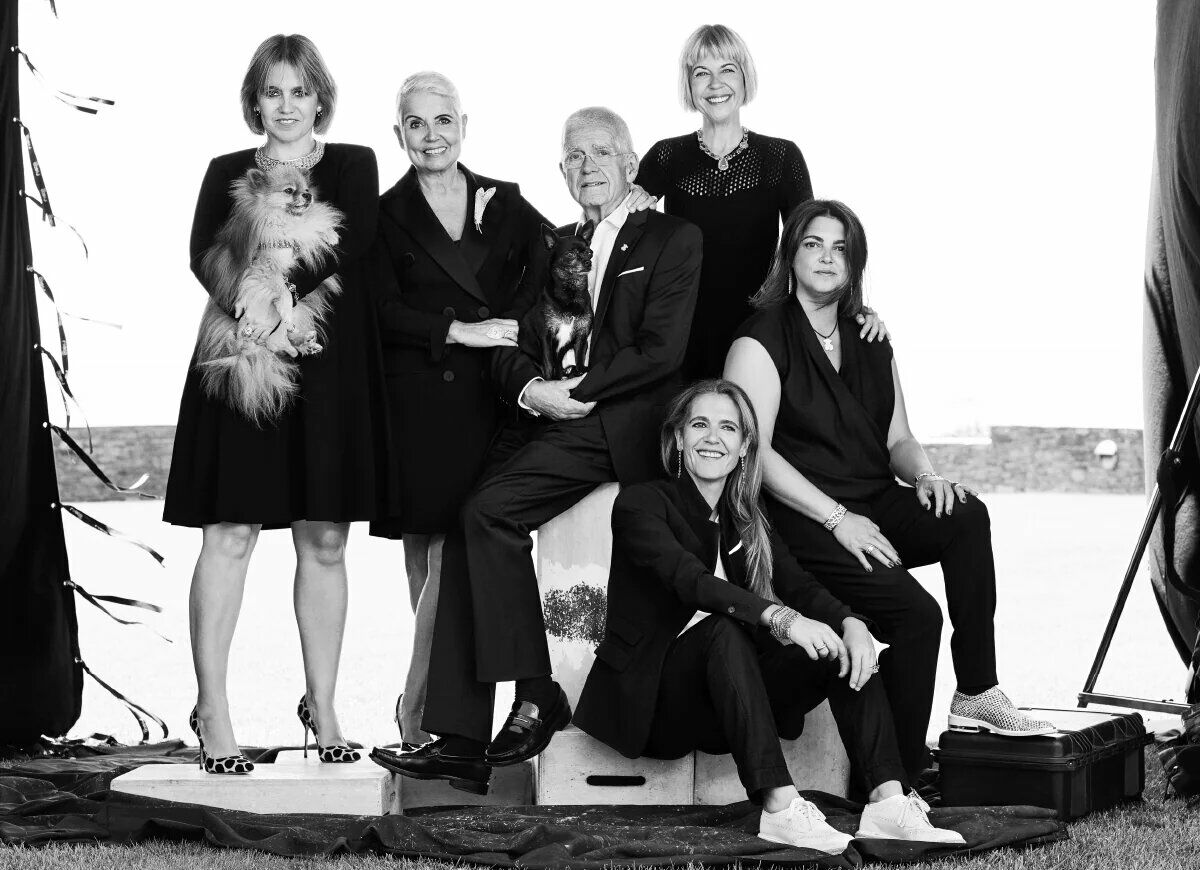 2016
So from here on out, just as I have for these past fiftyyears, I will keep on enjoying life, having fun and exploring the world withmy husband, celebrating the achievement of the greatest dreamwe could have ever imagined. And of course, I won't stop creating jewelry.